Group Social Rides
Group Social Rides
For further information email: grouprides@sytri.org
We are pleased to offer to our members free no-drop group rides. An opportunity to meet up socially with fellow club members - these are not coached sessions and are run by Ride Leaders or Ride Organisers. Ride Leader led rides are referred to on the Nifty booking system as Group Social Lead Ride and are covered by Club Liability Insurance. Occasionally rides may be organised by a Ride Organiser. The Organiser will not have completed their 1st Aid Course and are not covered by Club Liability Insurance. These are referred to on Nifty as Group Social Rides.
Juniors - 15 to 18 years - are very welcome, but need to check first with their coach. Due to safeguarding issues, riders under 18 must be accompanied by a parent/guardian (who must also be a club member) throughout the ride.
All riders ride at their own risk. There is a strict policy of no helmet, no ride.
We will try to cater as much as we can for the different range of riders within the club. Each ride will be individually advertised with course details, distance and speed by the individual ride leader on email and facebook.
The importance of the social and safety side of a group ride should never be undervalued. For those getting back into cycling the rides should be seen as a way of building up confidence/safe riding skills. For those wanting a more challenging ride, we will hopefully have some rides that meet that challenge. For some of us it is all about the cake!
The ride protocols provided by British Triathlon also give guidance on pre-ride bike checks, Highway Code links etc. It is important that you spend time reading these documents before joining a ride. The pre-ride safety check means that avoidable issues don't cause a problem on the day.
There is currently a limit on numbers - 1 ride leader + 8 riders in each group at the moment, with the possibility of 2 groups - depending on the availability of Ride Leaders and the numbers wanting to ride. There is no charge for these sessions, however you need to book your session in advance via the club website. Bookings open at 5.00pm on the preceding Monday and close 10 mins after the session start time.
Covid-19 is still with us. Before attending club training sessions participants should undertake a pre-session symptom check for any infectious illness and not attend if unwell. Please read the information in the following form before you attend the session. You will need to confirm that you have read and understand it and that you are fit and healthy to take part in the session when you book your place.
Covid-19 pre-session participant health questionnaire
You can check availability and book your place here (this link takes you to an external website). If you later find you cannot attend please try to cancel your place (using the link in your booking confirmation email) so that someone else can attend.
Before each session you attend
Do not leave home to participate in any club or group activity if:-
- you, or someone you live with, has any symptoms of Covid-19, the main symptoms being - high temperature, new continuous cough, loss of or change of taste or smell
- you have been told to self-isolate by NHS Test and Trace
- or you are required to quarantine due to travel
NHS and Public Health England guidance on self-isolation can be found here.
The latest Government guidance can be seen here
It is your responsibility to be sufficiently fit and healthy to participate in any swim/run/bike activity. You should think about any pre-existing medical conditions that you may have, and if in any doubt, you should not participate.
You will be asked to confirm your Health Assessment Questions when you book a session.
Your name, contact phone number, and the dates and times of the sessions you have attended will be retained by SyTri for up to 21 days and and shared with the NHS test and Trace programme if they request it.
At All Sessions
- please follow instructions from coaches/session lead and any signs/instructions at the venue
- bring a face mask - you may need to wear it at indoor venues
- wash/sanitise your hands regularly
- follow safe practice while travelling to and from activities
- Can we encourage you to travel to sessions by running/walking/cycling? as well as the Covid guidance it's more environmentally friendly.
- bring you own food/drinks (do not share with anyone) and preferably your own equipment if you have it
- be prepared to go home in your training kit - you may not be able to change at the venue
Please also ensure that you read the following document before you attend the session.
Risk Assessment - SYTri Group Cycle Rides
Let us take the opportunity to introduce the ride leaders.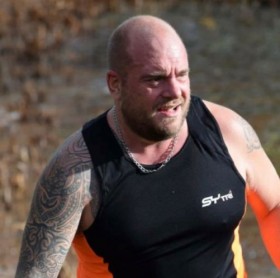 Adrian Cooper. "When I was younger I used to ride a lot with my family in the UK and abroad, and I really only got back into cycling about 4 years ago and realised how much I missed it. As a rider, I'm not particularly fast but love the challenge of a hill, knowing that a downhill usually follows. I guess my rides are more suited to people relatively new to cycling, to improve use of gears, hills, braking, however anyone is welcome as it's also an opportunity to socialise and maybe pick up some cycling tips. As the group rides are about being social, I like to include a coffee and cake stop towards the end. Both essential I think and another great way to socialise and meet fellow club members.
Adrian"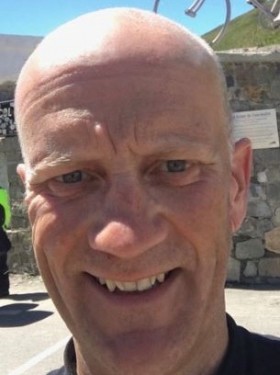 Jason King. "Cycling is my favourite discipline ….. in fact I haven't really done that many triathlons! For me it is the fact that I can spend a day on the bike and see so much of this land. I love to push myself, usually by finding the biggest and steepest mountains and then cycling up them.
As a ride leader I aim to encourage us to work as a team and push ourselves a little, but also have some fun. Invariably there will be a hill or a few efforts, but we will always regroup. At the end of the ride I would like everyone to feel a sense of achievement and enjoyment.
Coffee and cake is a vital part of cycling and will always feature on my rides.
I look forward to seeing you at a ride soon!
Jason"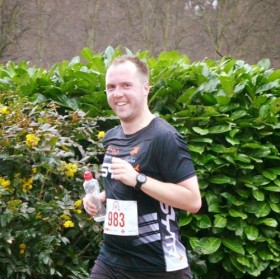 Sam Jones. "My background in triathlon and cycling only started a few years ago. I used to play a lot of football when I was growing up, then I got into running in my early 20's. The running progressed from 5k to marathon distance over a few years although after that I decided I needed a new challenge. That is where my love for triathlon started.
For my first event I trained by myself for the Shrewsbury sprint triathlon. This helped me to dip my toe into the sport and I fell in love as soon as crossed the finish line. The mixture of the disciplines really helped me to keep focused, as every day was different. This is also when I fell back in love with cycling.
I had cycled through my childhood but had not been on a bike for at least 10 years. I really enjoy the freedom that cycling gives you and it now has to be my favourite discipline. The love of this sport has now taken me to complete four 70.3 race distance races and countless other triathlons.
As a ride leader, I hope to help others to get into this sport and enjoy the discipline of cycling. I try to organise different rides so that all members are catered for. Some weeks will be more relaxed while others may be more structured but for all rides, the social element is key. No rider will ever be left behind and it is always a great way to meet new people.
Sam"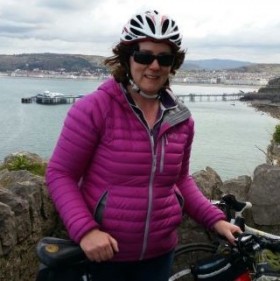 Denise Chamberlain. "Having taken part in many group rides over the years, I feel it has boosted my confidence and ability, to the point where I completed the 100 mile Ride London with a respectable ride time of 6hrs 30mins.
I would prefer to take out more relaxed social paced, shorter rides of approximately 15-25 miles. Stopping for coffee and cake being an important part of any weekend ride!
Denise"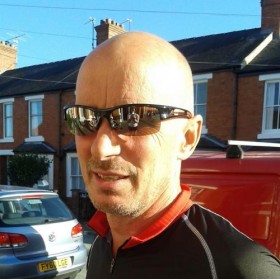 Richard Chamberlain. "Having spent a couple of years going on regular Sunday club rides, I found it a very valuable way of meeting fellow club members in a friendly, sociable atmosphere.
I feel that training paced rides have their place but I'm much happier with a social paced ride. My preference is for rides with as many hills as I can fit in, with any distance from 20m/32km to 50+m/80+km (when fit).
My proudest achievement in sport besides completing Outlaw long distance was being mistaken for a male model when on a cycling holiday in Mallorca! My lowest point was being overtaken in same said Outlaw by a bloke on a BMX bike on a hill.
Richard"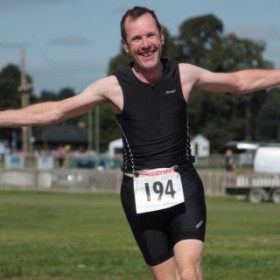 Eric Hanna. "I've had a love for outdoor activities for most of my adult life, but only got into cycling proper in the last 10 years. As a rider I'm a plodder but reasonably good (in my opinion) on the hills and love the downs so love hilly rides. However, in my book, any riding is good. My riding benefitted from coached track sessions at Sundorne, teaching balance, using gears properly, braking and group disciplines and most of all having fun.
As a ride leader I want to encourage fellow riders to get out there regardless of abilities and strength and to enjoy riding safely. So my lead rides will be a mixture from relatively relaxed to more challenging. I'm also a great believer in the importance of the social side of the ride, so coffee (or tea) and cake are essential.
I am also the point of contact for the ride leaders.
Eric"