SYtri Achievement Awards - running
We set up a junior achievement award system in 2017 for running and swimming. We hope the standards set will be encouraging and give you something to work towards.
The standards have been calculated using a similar age graded system to park run, based on a percentage of the best junior times in the world. The standards are graded as bronze, silver, gold and platinum – we hope that as many of you as possible will be able to achieve a bronze certificate.
We will issue certificates when you reach a particular run time for your age and gender. The Rate of Perceived Effort Chart below should help you in your training towards reaching the targets.
Rate of Perceived
Effort Chart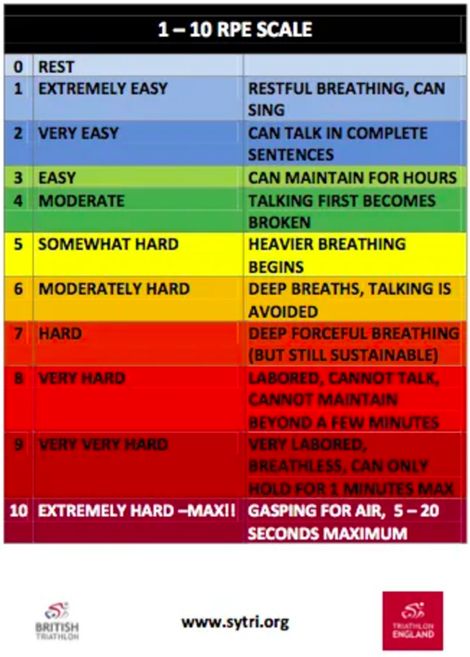 Run Award Targets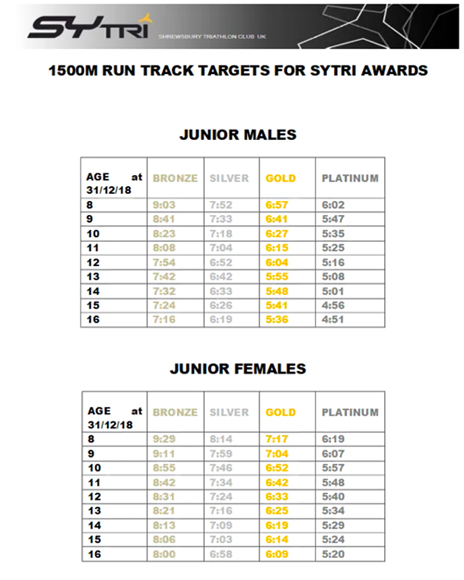 SYtri Junior Trainer Challenge - beginning 1st March 2018
The coaches would like to invite you to take part in our new 500k run challenge, which is equivalent to running 100 Parkruns!
run 500k in your own time & at run track
log your achievement by filling in the kilometres on your trainer
let the junior captain know the distances you have achieved each week
ask your parents to sign off your trainer to support you
encourage your parents to get involved
coaches will sign off your run track distance
spot prizes